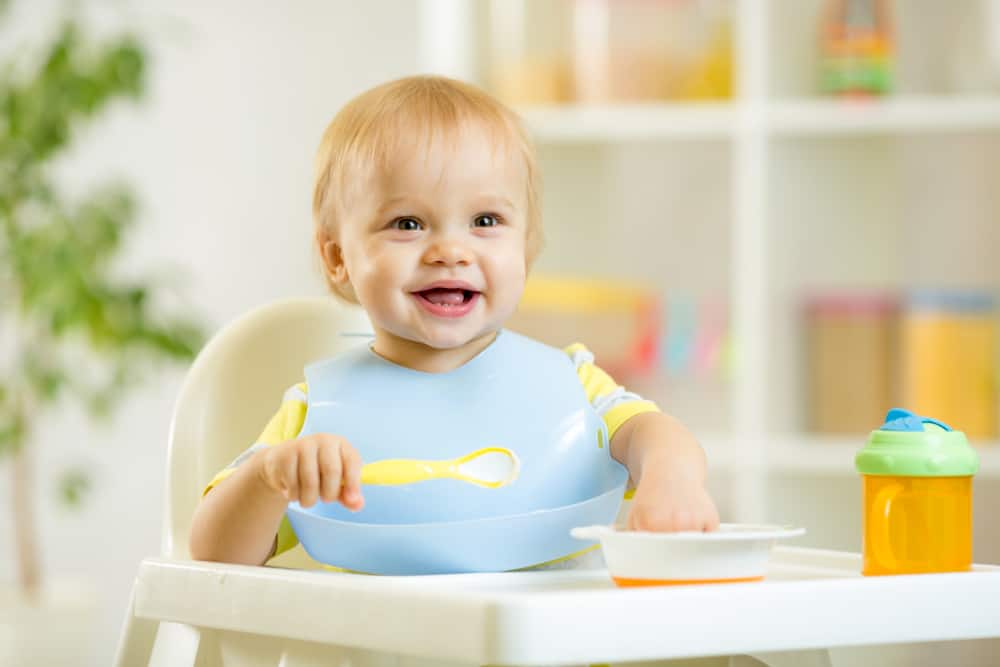 Looking for the best high chair for small spaces?
There are many reasons you would want to add a high chair to your registry. For starters, the best high chairs are super-convenient in helping to contain the mess that comes along with solids.
Most importantly, however, high chairs will position your young one in a proper and upright position for feeding.
However, if you're a mom with limited floor space, you might have realized how challenging it is to fit high chairs for your baby.
Sure, the market is full of high chairs, but finding the best high chair for small space seems like a Herculean task. This is particularly true if you're a first-time mother.
The good news is, we've scoured through the internet, and sought the advice of the experts to provide you with a list of the best space-saving high chairs in the market.
In our review list, we've cherry-picked premium small highchairs that will offer the perfect solution to dining with your little ones when at home, traveling or at restaurants.
How to Choose the Best small space high chair – Factors to Consider
1. Space
When purchasing the best compact high chair, it only makes sense that you first consider the available space.
Having a basic understanding of the available space will provide some pointers to what size you'll roughly need for your chair.
Ideally, if space is of the essence, go for a streamlined model that consumes minimal space. You might also want to consider the foldable high chairs since these can be folded and stored away without taking much of your space.
2. Versatility
Like good convertible chairs, the best high chairs for smaller spaces should grow with your baby.
This allows you to use the chair right from infancy on through the toddler years.
Modern chairs will easily grow with your baby, converting from an infant seat to a toddler booster, and then to a chair, thus increasing the versatility of the chair.
3. Comfort and Style
It always seems like there's always a trade-off between comfort and style.
However, like a great pair of Yeezy, you want to strike a balance between something that is candy to the eye and at the same time, something that your kid would want to use.
For instance, chairs for infants should have proper support and harness for safety. Also, if your kid is on the new path of food exploration, you would want a high chair with sufficient padding and one that is easy to clean with little or no effort.
Regarding style, this is quite a subjective matter since it is personal. We do love contemporary designs, especially those annotated with sleek lines and simple designs. However, there're a variety of styles to choose from, and you can pick one which meets your kid's needs.
Like its name suggest, the Cosco Simple Fold chair is simple. While this might be quite less ideal for every home, it makes a suitable solution for those in a limited space or who like traveling.
Besides the modest ground print, this unit can fold up extra compact, thus making traveling easier. Also, Cisco comes in a plethora of color and pattern options.
Sporting a 3-point harness system, the Cisco is quite accommodative and comes with a generous capacity of up to 50 pounds.
The Cosco is easy to clean as it only requires a simple wipe of the fabric of the chair. And although the padding is fixated on the seat and is only clean in between uses, the tray is removable for machine washing.
Echoing what we mentioned above, the Cisco is pretty straightforward, with no adjustments to make, save for the tray.
The tray comes with three different positions, and thus promoting versatility and ease of use.
Pros
Compact
Easy to clean
Affordable
CONS
Non-removable seat padding
The Stokke Tripp Trapp is on the higher end of the price but a worthy purchase. Sporting a rustic wooden design, the Stokke is aesthetically appealing.
Beyond aesthetics, the Stokke is a performance-oriented high chair and will deliver to its promise.
For starters, this high chair is highly adjustable and will grow with your kid. What we liked most about this chair is the generous weight capacity of up to 300 pounds, which is simply incredible.
Like other best compact high chairs on our list, the Stokke similarly comes with a removable footrest that will bolster on the safety of your infant as well as offer comfort during the later stages.
A highly versatile piece of Scandinavian design, this chair can transform from a chair, high chair, and high chair complete. All the above iterations are designed to cater to the growing needs of your baby, right from infancy to old age.
Unlike most of the best high chairs on our list, the Stokke is designed for use without a tray. Sounds perplexing, right? Instead, this high chair is designed to be pushed up to the table, and this encourages family bonding.
The Stokke Tripp Trapp High Chair unit comes with a robust set of the harness system. The harnesses will keep your kid in place, while at the same time offering safety against falls. The harness system is particularly handy for overly active kids.
The Abiie Beyond is a versatile and user-friendly chair that can serve as both a traditional dining chair as well as a toddler's chair.
An exciting thing about the transformation on this chair is that it takes less than 20 seconds and can be done even by those with little or no knowledge.
The Abiie, featuring a sleek and space-saving design is constructed from eco-friendly European Beech. These alongside the super-soft cushion will only but keep your young ones comfy for hours.
Though aesthetics are prominent on the Abiie, we were completely sold on the functionality and versatility of this unit.
For starters, though the unit is constructed from wood, the sturdiness is on another level and can be equated with the premium metal options too.
Regarding versatility, this unit comes with some cool adjustment options, making it ideal for use in the various stages of your kid's development.
An ideal option for those with limited space, the Abiie is a compact high chair with small footprint.
The major selling point on this unit is probably the patented adjustment mechanism.
The Unique EZ-Seat functionality allows you to reposition the seat depending on the needs of your little one. The good news is, the repositioning is a simple task, needing the simple push of a button.
Versatility on this unit is further manifested by the presence of 3 or 5-point harness that offers plenty of options and at the same time keeping your child nice and safe, regardless of their size.
The manufacturer claims that the Abiie has been undergone special treatment during production, and this makes it quite resistant to bacteria.
Pros
Durable
Bacteria-resistant
Aesthetic & Versatile
CONS
No extra cushioning on the headrest
The Graco Simple Switch is a 2-in-1 high chair that grows with your family. A versatile option too, this chair doubles up as a portable booster seat and a full package high chair.
The detachable top section makes the Graco a wonderful option for those looking to include their kids during mealtime conversations and ideal if you're to stay in relatively cramped accommodation.
Though it comes with a relatively smaller footprint, it's not ideal for traveling as it does not fold. This is probably our biggest concern since it'll only be restricted to your dining room or kitchen.
Focusing on comfort, Graco boasts of a full-cushioned seat, alongside a machine-washable cushion, and this ensures your kid is comfortable and has somewhere clean to seat.
The open leg space and a robust footrest offer a comfy experience for your kid while offering enough support to seat the infants at the upper end of its weight limit.
Many of the portable high chairs often sacrifice space to keep the weight minimal. But this Graco high chair offers an expansive and generous BPA-free plastic tray that will give your kid plenty of feeding ground.
The seat pad on the Graco is machine washable. Also, the tray is removable and easy machine washable too; and this helps to keep the eating area clean.
With Graco, you can always feel confident that your baby is safe. The convertible 3 and 5 point harness system will keep your kid comfortable and safe in their seat.
Pros
• Reclining seat
• Easy to clean
• Value for money
Cons
• The booster seat is a bit small
The Fisher-Price Highchair is a portable unit with the ability to perform similar functions to a full-size chair. This unit is specifically designed to offer your little one luxurious comfort.
Highly compact and lightweight, this unit is portable and will give you the privilege of saving space around your home. This unit comes with a unique design meant to offer no obstruction whatsoever when in use.
The Fisher-Price sports a well-crafted full-sized tray. The tray sits comfortably on the front section of the chair. This tray holds on to your kid's dish and will generally provide a better feeding experience for both you and your kid.
A spacious contoured seat with a cushioned seat pad offers the ultimate comfort for your kid, while the FastFinder Link offers an accessible way to hold onto bibs, towels, and toys. The angling toys are fascinating and will keep the child engaged in the absence of adults.
The presence of restraints helps to hold the baby firmly in place. Besides allowing your kid to rest in an upright position, restraints are suitable for mothers with active kids as it helps in controlling their movements.
Besides the restraint system, safety on this seat is further underlined by a 5 point to 3 points restrain, so both the mother and child are assured of optimal safety while the product is in use.
The height and tummy adjustments plus the reclining seats allow your little one to get comfy.
Pros
Easy to assemble comfortable
Offers support
Space intensive
CONS
Gaps between cover and seat mean food can fall down
The Graco 7-in-1 is yet another product from Graco, and this goes ahead to underline the superiority of this brand. Like the latter, expect rugged durability and functionality.
A highly versatile seat, the Graco longevity, and durability are unmatched, as it will last long even after your kids grow out of needing a high chair.
The Graco is ideal for those with limited space. This is because it's foldable and takes less space.
Offering up to seven-seat settings, Graco accommodates the growing needs of your kid.
Firstly, it's suitable for infants, thanks to its reclining nature, and can be used for older infants as a high chair. And when your kid grows older, the top seating part can be removed and placed on a chair as a booster.
In a nutshell, there're several exciting ways to use the Graco 7-in-1, and all this goes to underline the flexibility and versatility of this chair.
Versatility on the Graco does not stop on the seat positions as it extends to the height of the chair. The Graco seats can be adjusted to five different heights, and this will depend on the table being used.
Again, like The Graco Slim, we've reviewed above this high chair comes with a removable footrest, with three different positions.
Regarding the ease of cleaning, the seat pad is removable and machine-washable. The removable tray, on the other hand, comes with inserts that are equally removable and safe to clean in a dishwasher.
Weighing at 40 pounds, the Graco is by no means lightweight. The good news is, this unit features wheels on the front, making it easy for parents to roll away for storage. However, it's not easy to roll the chair when it's assembled and with a child inside.
Pros
• Durable
• Highly versatile
• Easy to clean
• Value for money
Cons
• Portability issues
Graco is synonymous with rugged durability and reliability, and the Graco Slim Snacker is no different.
The Graco Slim has three recline positions allowing you to get maximum value from this seat at the different growing stages of your little one.
With a modest footprint, the Graco takes little space when in use and even less in storage.
Though the manufacturer claims the Graco is portable, it weighs slightly over 20 pounds, and this may prove to be quite challenging for some, especially when carrying the baby with one arm.
Though this chair comes with a slim silhouette, the food tray is quite generous and will hold several plates and cups for a full-package feeding experience.
A concern we had with the tray is the lack of a removable liner, meaning parents have to clean in between the uses.
Like the Joovy we've reviewed above, the Graco Slim Snacker folds up easily after meals. If reviews are anything to go by, the Graco Slim folds within a matter of seconds.
Though the manufacturer has not indicated the construction material on the upper fabric, parents claim that it's comfy at the very least and the fabric wipes up with ease. However, a growing concern is that the fabric tends to allow food bits to get lodged behind.
The presence of a security harness that converts from 3-point to 5-point will keep your kid safe. Additionally, it will accommodate the needs of your growing child at various stages of development.
Also, the Graco Slim comes with a footrest which further bolsters the safety of your kid by preventing them from slipping, while offering a greater sense of security.
Pros
• Easy to move around with, and also very easy to clean up after use.
• Lightweight design allows you to fold with one hand and hold the baby with the other hand, folded easily for optimal storage
Cons
• Lots of pockets and cracks where food enters, and you find it difficult to bring them out.
• Shoulder straps tend to slip off.
Simplicity is the ultimate sophistication, and the Joovy Nook is a testimony to the statement.
The Joovy Nook is a modest, stylish, yet functional high chair that will not hog your precious space. With a modest dimension of 32 x 23.5 x 41 inches, the Joovy is the perfect option where space is of the essence.
A wonderful purchase, the Joovy is padded on the entire bottom, so it doesn't leave marks on your mat. With a sturdy design, there's no risk of the chair tipping, even when on the most playful kids on board.
A highly functional seat, the Joovy Nook has a generous capacity of 50 pounds and will support the heaviest of your kids.
Like a beach seat, the Joovy is foldable, and this opens up a host of new opportunities.
Whether you're looking to bring the chair for picnics, family functions, or in the outdoors, bringing your baby to meals anywhere has never been this easy.
Sporting no-frill aesthetics, the Joovy has fewer parts to clean, but the comfy and colorful cushions keep the chair fun to use.
The swing-open tray is quite a handy feature that will make putting your child in the chair less cumbersome. More importantly, it will allow you to hold your kid while operating the tray without the need of removing the dishes from the tray.
Another exciting feature of the Joovy is the adjustability of the trays. Featuring four adjustments, the Joovy will get the tray positioned perfectly to keep the food on the tray and not on your kid's lap.
More importantly, you can adjust the position of the tray depending on the growing needs of your child. This improves the versatility of this high chair.
The four-point harness goes further to underline the versatility of this high chair.
The harness is a great security feature that will keep your kid firmly rooted in their seat, while at the same time offering more comfort.
For young kids and infants who are just starting, it's vital that you chest-strap them, but for the older kids, you will only need to strap the bottom clips.
The tray, constructed from premium durable quality, has a premium feel and will take a beating. Unlike other materials, plastic does not stain, even after consistent use and distinctively, it is dishwasher safe. Therefore, no need to get worried about your kids getting messy with pasta or colored strawberries.
For the ultimate comfort, the Joovy is deluxe padded with ultra-premium and Comfortable Leatherette with foam padding. The Comfortable Leatherette is incredibly soft on the baby and will keep your kid on the edge of the comfort zone.
Like the trays, the Comfortable Leatherette is machine washable and easy to wipe using a damp cloth.
Pros
Generous capacity
Safe and Easy to use
Easy to clean
Frequently Asked Questions (FAQ)
1. How many different types of High Chairs are there?
There are five types of high chairs. These are standard high chairs, Wooden high chairs, Restaurant high chairs, Booster high chairs, and Travel Friendly high chairs.
Standard: Typically plastic-framed, some degree of collapsibility, a removable tray, and a padded seat.
Wooden: Most wood chairs are of solid construction and do not collapse. Wood chairs have a number of advantages in both the aesthetic and ease-of-cleaning departments. Certain wooden high chairs can be used as adult seats after their term as a highchair has expired.
Restaurant:

These durable chairs are sub-divided into two categories, Portable and Commercial. Portable chairs are the type that are easy to transport and either hang from a chair or attach to the table itself (See Travel Friendly). Commercial restaurant chairs are tough: designed to get constant use and abuse. Thanks to their durable construction and stack-ability, the Lipper Natural is one of the most commonly used Commercial restaurant high chairs. You'll find them stacked in the corners of restaurants all over North America.

Boosters:

Typically built of solid or hollow plastic material, a booster seat is appropriate for children 3 or over who no longer require a harness at mealtime. Some boosters, such as the Bumbo Booster Seat, are of soft materials and are designed to snugly secure your child while they sit. The Kaboost Chair Booster actually raises a normal dining chair by sitting under the chair's legs.

Travel Friendly:

These are light hook-on chairs that attach to a chair or the table itself. These are ideal for families who travel and eat out frequently, often utilizing cloth or vinyl seats that are very comfortable. The HandySitt is the only travel-friendly high chair that has a wooden frame and seat.
2. Do I need a high chair that reclines?
No, but they can be useful if you plan to use your high chair with an infant. Basically, a reclining seat allows you to use your high chair with an infant, bringing them to the table earlier.
Reclining chairs serve two basic purposes:
Assistance with bottle feeding

Comfortable sleeping. A child eating solid foods should not be fed in a reclined seat, as it may pose a choking hazard. Some kids pass out a minute or two after being fed, if not right in the middle of it. If your child is comfortable in their high chair, you can drop the seat back into a reclined position so that they can sleep more comfortably.
3. Do I need a high chair that is height adjustable?
While not necessary, height-adjustable high chairs make feeding more convenient and improve a high chair's ergonomics.
If you feed your child in different places, or if your table height is different than most, you may find height-adjustable chairs to be very convenient.
Most parents pull the high chair up to the table at mealtime, but an adjustable seat height allows you to use the chair in a variety of settings, from sitting on the floor to sitting up at a high table. It allows you to sit at any height and remain comfortable while you're feeding your baby.
Additionally, an adjustable high chair increases the longevity of your high chair by accommodating growth spurts. The Stokke Tripp Trapp adjusts to accommodate babies and adults up to 300 lbs.
Adjustable high chairs also improve ergonomics. When at the proper height, an adjustable high chair increases the distance a child can reach the table, improves their stability, and reduces fidgeting.
Children get the most ergonomic benefit from adjustable high chairs that also feature an adjustable footrest.
The Stokke Tripp Trapp meets high standards of ergonomics and has been recommended by a Cornell University study on the best chairs for children. And because the Tripp Trapp accommodates individuals up to 300 lbs, the baby has a place to sit at all stages of development.
4. What ages are recommended for high chairs? What about booster seats?
5-months to 3 years for high chairs, 3-6 years for boosters.
A high chair can be used as soon as your child is able to support their own head, which is typically by the time they are 5 months old.
High chairs with a reclining seat can be used from the newborn stage. By age 3 an average child will have outgrown the need for a highchair, both in size and in the reduced mess they make when eating.
At this point, a booster seat that raises them to the height of the table can be used. Boosters do not come with straps, so it's important that your child be mature enough to sit unsecured before you make the switch.
5.Which is Better: Wood, or Metal and Plastic High Chair?
There are pros and cons to every material used in the construction of juvenile products. We'll tell you the differences, but after that, you're on your own.
The majority of high chairs are constructed of plastic components mounted on a metal frame with a cushioned seat. Cushions are either
PVC (i.e. vinyl) or cloth material. Metal and plastic highchairs typically fold and can be more easily stored than static wood chairs that take up more space, though certain wood models, such as the Kettler Madison, also fold.
Most metal and plastic chairs are lighter and more versatile, offering multiple adjustment settings and recline options for infants.
Some parents are uncomfortable with using non-organic products with their children or prefer the style of a wooden chair. In addition, wooden chairs are, on average, more expensive.
100% wood chairs are nicer to look at and built to last, but most don't come standard with cushions. If you consider a cushion a necessity, many have cushions available as accessories.
Certain wood high chairs, such as Svan and Rochelle, have a removable plastic tray cover. This can be invaluable during cleanup and preserves the quality of the chair's feeding tray.
The advantage of a plastic tray is that you can remove and rinse the tray after a messy meal, or put the tray in the dishwasher.
Wood chairs wipe clean very easily but can wear after extended periods of use. By extended. we mean generations of use.
Well-cared-for wood high chairs can become a family heirloom and passed along to relatives and friends as needed.
Many wood high chairs now offer adjustable seats and can grow with your child, but they generally offer fewer features and take up a lot more space.
Wood high chairs are often more sustainable than plastic high chairs. For example, the Stokke Tripp Trapp [link] uses sustainably harvested beech wood.
Wooden high chairs also use fewer chemicals. You won't find BPA or phthalates here! And because wooden high chairs last for generations, they don't create as much waste as plastic high chairs.
6. What if my Baby will not let him or herself be strapped in?
It is imperative that you strap them in. If you can't, try a few tricks. If that doesn't work, you may want to try a Bumbo Booster or another feeding method that doesn't involve a harness.
Most children have no problem with sitting in a high chair, and many simply love it. There are, however, accidents that occur every year where a child is killed or injured due to a fall from a highchair, and it's almost always because they were not strapped in.
Most other injuries in high chairs result from the chair itself tipping over, which is why most high chairs have a very wide base. Children can also receive injuries from sliding down below the feeding tray, so restraints of some kind are very important.
Don't cave in. Try distraction, toys on the feeding tray, the choo-choo feeding method, or anything else that makes feeding time fun.
If your child loves to eat (mine still does not) then make it clear that they do not get to eat until they're in the high chair.
Routines are a very important part of rearing a child, and once they understand that the high chair is part of their routine you should have an easier time of getting them strapped in.
Try different approaches until something works, but don't get frustrated. We cannot stress enough that for the sake of your child's safety they MUST be restrained in their high chair.
7. Lap Belt, 3-point, or 5-point restraints?
3-point or 5-point; a lap belt is not the best option
Safety is the #1 concern of every parent, and a restraint system of some sort should be a point of concern for all high chairs.
You'll be hard-pressed to find a high chair made in the last decade with a single strap lap belt. With a degree of effort, some children can get out of belt restraints. 3-point restraints are now the industry standard, as they secure your child and prevent them from sliding downward. Some seats now have 5-point restraints, just like a car seat.
A 5-point restraint that anchors your child's chest and shoulders to their high chair is really not a necessity at feeding time, though it can offer some assistance when your child is very young and may tend to slump in their chair.
When used in the later stages of your child's development, they may find the shoulder restraints annoying. They can also compound the mess on clothes by preventing them from eating over the tray.** A 3-point restraint is all you really need to keep a kid in their seat, though 5-point harnesses do offer some additional security.
Some high chairs only offer passive restraints . . . no belts. As beautiful as these handcrafted chairs may be, their lack of a child restraint is a valid issue for many parents.
A well-behaved child may have no problems at all staying in their chair, but if you have your heart set on a restraint-free chair you need to be VERY aware of the safety concerns. In other words, never turn your back on a child in a non-restrained high chair.
Some high chairs like the Stokke Tripp Trapp do not come with a front tray but do come with a harness. You can make the Tripp Trapp safer with the Stokke Tripp Trapp Baby Set, which adds an additional layer of safety to the Tripp Trapp's harness system.
Our Conclusion on Best High Chairs
A lot of time and effort has gone into choosing the above high chairs for small spaces.
Up to now, we've covered a lot of ground, and the ball is in your hands.
Gladly, you'll find that the above review has something for someone. Every unit discussed above is a good choice.
From the sleek, contemporary, solid to sturdy, you'll find something that will address your kid's needs and your budget too.